Social (Dis) Connection
So, maybe I need to buy this book?
Some of you guys might have seen my mini-rant on facebook about only getting 2 unique views for a link I shared yesterday.
Why did 2 links bother me?
I have 401 friends on my personal facebook page.
I have 1191 followers on my fan page.
I have 1397 followers on twitter.
I have 537 follwers on G+
I have 404 followers on Pinterest.
And I have other followers on other social networks. And people who are not directly connected with me but are in the same groups I'm in where I also shared my link.
Even if some of my friends follow me on all places that is still almost 4000 friends and followers.
That is why I was so bothered by only getting 2 unique views on a blog post I shared recently.
Nearly 4000 connections and only 2 people clicked my link and stayed there long enough to be counted?
Why Do I Want Clicks So Bad?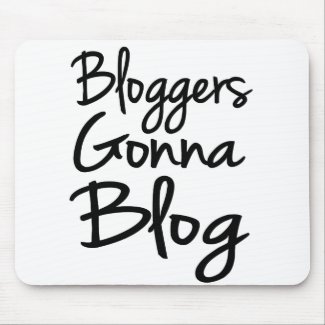 Bloggers Gonna Blog Mousepad
by
zzl_606339877340573
Make any
mousepad custom
from Zazzle.
Well, aside from being a hobby (which I have been doing since 1999) I do earn a little bit of money from my blogs.
A Little bit.
Pennies really.
Some of my blogs I earn from adsense. Some of them I count on affiliate sales from amazon, zazzle or other places. Others are revenue sharing and I earn so many dollars per so many thousand views. Still others earn my points that can be cashed out for pay-pal or amazon gift cards.
I can't tell you which is which because some of the places I write make it against the rules to straight out ask for views.
Thankfully I'm not counting on the pennies I earn to pay any major bills (yet) but they do add up to be my fun money.
Fun money.
I used to could count on at least $25 a month. Now many, many, many MANY months have passed and I get fewer and fewer views, and I've gotten $0 from anywhere other than Swagbucks, and that's not even for blogging!
How Can You Help?
Connect with friends and intimidate enemies t shirts
by
wearethecatfish
Make t shirts
at zazzle.com.
If you have stayed here long enough to read this far, then you are one of my loyal followers, so thank you.
You can help by clicking all the blog links I share on my social networks, and STAYING ON THE PAGE. Thats right. You have to stay there long enough to be counted.
How do you know if its long enough?
Did you read the whole thing? Did you leave a comment? If there was a poll did you take it? If there was a video did you watch it?
If you do any, most or all of these things then chances are good that you have been there long enough to count.
You can also help by SHARING my blogs with your own social networks.
Now I'm not expecting you to share the Wordless Wednesday featuring
my sons fingerpainting
, cause your friends and followers probably don't care about my sons finger-painting.
BUT...if I share a link to a blog I wrote about how to
make a Reindeer Ornament
, or telling you all about an
awesome crafting tool
, then you should totally share it with your friends on facebook, twitter and pinterest. For sure pinterest.
Another way you can help is by clicking links I share. Following links not only takes you to other fun and interesting things I've written, but they also earn me more pennies. Or affiliate sales. (Did you know that if you visit amazon through one of my links, and buy ANYTHING AT ALL, then I earn a little money from it. That's right, you don't even have to buy what I'm trying to sell you, but if you enter though my affiliate and buy yourself something nice, you help yourself and me too!
But I Don't See Your Link Shares
After my mini-rant some of my friends stepped forward saying they don't remember seeing me share links to my blogs.
I supposed that could be the case, since I do share a LOT of stuff on my personal facebook. Though to think that nearly 4000 people are not seeing my links?
Meanwhile, if you think my links might be getting lost in your feed, then you should totally subscribe by e-mail. In all the blogs I have any design control over I will try to make sure that an e-mail subscription is available at the top right or top left.
If you dont want an e-mail every time I post you can also add my blogs to an RSS feed reader. I personally use a plug-in called Sage with my firefox. I can see at one quick glance who has updated since last time I visited. I'm sure most browsers will have something similar.
Okay, I'm sure I might have more to say on the subject, but not tonight. Tonight I'm going to