Okay, so its actually Saturday when I'm posting this but I have a rare moment of peace. The whole household has been ill, so we we sent the baby to his grammas to get him out of the germs and I'm not typing with a crying newborn in my arms. Likewise, with my cold/flu medicine scattered brain I might forget to do it in the morning, so I thought it better to jump the gun than to forget altogether!
This past week I've managed to put up a few new lenses, and even updated several older ones moving them up in ranks for a short time.
This week's featured lens come from a face that should now be very familiar here!
Lensmaster marsha32 never fails to stop by and drop her links every week!
Oh, and marsha32 also has a weekly lens hop! After you've droped your links at the bottom of this post, feel free to visit her at: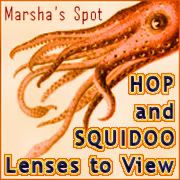 In her lens about the Kansas Cosmosphere and Space Center she talks about one of the main attractions of her hometown. You will learn about everything it has to offer for you to see, and she even generously shares a lot of photos so you can get a real feel for the place.
Now is the part that everyone loves. Drop a link below for a lens or two. It can be your newest, your oldest, your highest, your lowest, your favorite or the one you hate the most. Just share a link, and take a moment to visit the other links people have shared as well, because sharing is what makes Squidoo fun!
If you are NOT a member of Squidoo, then you should give it a shot. It makes it easy to create webpages for all the things you love. You could even earn a little cash along the way.
LINK UP WITH US